Technically speaking, you can work from anywhere – your dining table, a café, etc. Productivity isn't guaranteed though. As the founder of a small business, you need a professional environment with minimal distractions and a supportive community. This is one of the reasons why coworking spaces have always been popular with entrepreneurs. 
The number of coworking spaces worldwide has been growing steadily. According to a study, by 2024, it is expected to cross the 40,000 mark. Over 5 million people are expected to be working from these spaces. In terms of the current number of coworking spaces, India ranks second worldwide.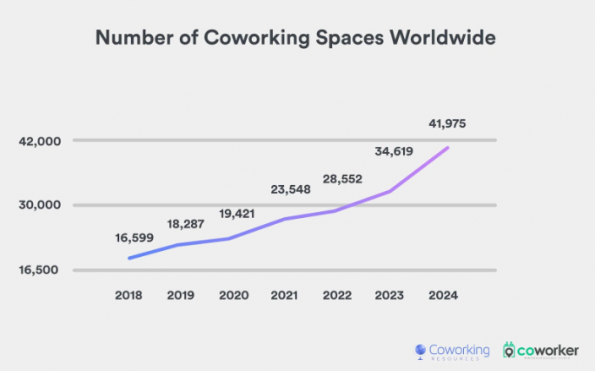 Source: Coworking Resources
A coworking space is fully furnished, equipped with all your basic office infrastructure such as high-speed Wi-Fi, printers, video conferencing equipment etc. and most importantly, they are budget-friendly. Well known international companies like Uber, Spotify and Instagram started from a coworking space. 
We spoke to three founders working out of The Office Pass (TOP) shared offices to learn how being in a coworking space helped them accelerate their company's growth graph.
💡 Are you looking for Coworking space in Gurgaon, Noida or Delhi?. We are just a call away.
Call now:   08999 828282
Coworking Eliminates Overhead Stresses 
Bikash Sahoo, Founder, Creanovation Technologies Pvt Ltd.
Though the company is relatively young, Creanovation Technologies was looking for a coworking space for big companies. They have a 50+ member team. Their choice was driven by three factors. Firstly, staff safety and security offered by the coworking operator. Second, the convenience and accessibility of the coworking location and finally elimination of overhead costs associated with running an office. 
Bikesh from CTPL @ The Office Pass, Unitech Cyber Park, Gurgaon office
Creanovation Technologies had earlier operated from a traditional office space and hence understood the resources and effort required to maintain an office space. Moving to TOP addressed these concerns. It was cost-effective and the team got easy access to a range of resources. Reliable internet, a safe space to work from, and knowing that day-to-day operations would be managed by someone else, minimized disturbances, this improved their workflow and optimized their productivity. The results were easy to see as the company grew more successful and expanded its partner network.
Coworking Keeps The Focus On Work 
Sushant Yadav, Founder & CEO, Optimite Technologies
Optimite Technologies tried working out of a few other coworking spaces before finding a base at The Office Pass (TOP). As a leading coworking space at Cyber City in Gurgaon, TOP's location is a vibrant space to work from, well connected to the Moulsari Avenue Metro station, safe and secure especially for the team's female members. The flexibility offered in terms of membership also made the space appealing to them. The team has had a regular membership to The Office Pass at Cyber City, Gurgaon for 2+ years.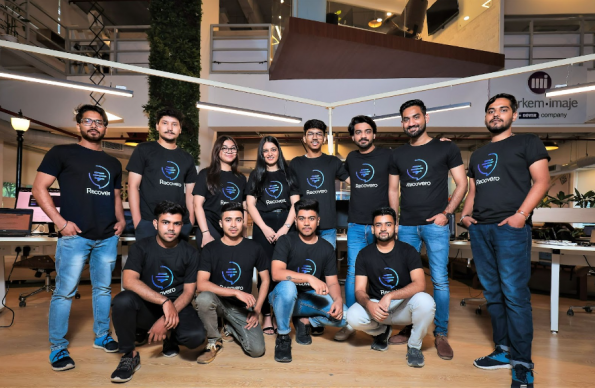 Optimite Technologies Team @ The Office Pass, Cyber City, Gurgaon office
Sushant sought out peace of mind for his team and access to office infrastructure without the headache of managing day-to-day operations. This freedom allowed them to focus their attention more towards their work and minimized distractions. This improved ability to focus has made Optimite Technologies the trusted partner for agencies worldwide despite having been around for just a little over 3 years.
Coworking Makes Operations Cost Effective 
Ankush Likhyani, Founder & Managing Director, Edventus Business Enhancement Partners
The Edventus team has been working from The Office Pass (TOP) for over three years. With a growing team of 15 employees, the coworking space offered by TOP proved to be the most relevant office space to work from. 
Their choice was influenced by its location, available infrastructure and cost. It ticked all the boxes of their list of office requirements and was more cost-effective as compared to getting a traditional office space for rent. 
After all, the cost of renting an independent office is not limited only to the monthly rental. There's also the cost of furnishing the office and cost of all other infrastructure to be considered. 
💡 Are you looking for Coworking space in Gurgaon, Noida or Delhi?. We are just a call away.
Call now:   08999 828282
As a coworking space, TOP gave the Edventus team a fully furnished and well-equipped office to work from. The managing team did not need to worry about regular administrative headaches or the cost of installing and maintaining these assets. This allowed them to prioritize their budget towards improving their services and catering to customer needs. Today, Edventus helps businesses across 15 industries recruit graduates from over 200 B-schools.
Finding The Right Co Working Space For Your Company
These are just 3 of the many success stories that TOP has been a part of. The Office Pass (TOP) is popular with founders of big and small companies as well as remote workers and freelancers. Every TOP location is furnished with ergonomic furniture, laid out to encourage interaction and collaboration and equipped with everything you may need to be productive. These are spaces where innovative ideas thrive.
The Office Pass (TOP) offers a regular and flexible membership plan for their locations in Delhi, Noida and Gurgaon. To know more, reach out to us at 08999 828282.