The COVID-19 pandemic, one of the gravest health emergencies of our times, has affected everyone in the business world. As regular commuting and traditional offices have become unfeasible, organizations are switching to alternative work arrangements. According to the latest report by JLL, the pandemic has accelerated the demand for flexible workspaces, including coworking offices.
And, operators of coworking spaces and neighborhood offices across the country have responded to this demand in the best way possible. In addition to offering their services at competitive rates, coworking service providers are also taking multiple measures to ensure the safety and health of their customers.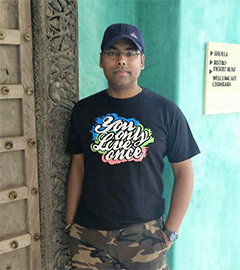 Nikhil Madan, Cofounder, The Office Pass (TOP)
In this post, Nikhil Madan, Cofounder, The Office Pass (TOP) a leading Coworking Space provider in the Delhi-NCR region talks about various ways in which coworking spaces are revamping their structure, layout, and practices to meet the workplace needs during COVID-19.
Before the advent of the pandemic, sanitization was only part of the daily cleaning routine – it was an activity that happened outside office hours. Office spaces were cleaned at the beginning and end of each day when no one else was around. Today, to ensure the highest level of safety and make people feel comfortable and confident, sanitization and disinfection are carried out more frequently (even during work time).
All reputed coworking operators sanitize their office and premises as per the guidelines issued by the authorities. All surfaces and objects, including desks, telephones, keyboards, chairs, etc., are wiped and disinfected at regular intervals. Hand sanitizers and wipe dispensers are placed around the coworking space so that people can sanitize their hands not just on entering the space but also after each interaction. Masks, gloves, and other sanitation supplies are available to whoever needs them.
Supplementary Safety Regulations
In addition to sanitization measures, many coworking spaces have introduced additional safety regulations to promote COVID-19 appropriate behavior. People without masks, whether it is customers, clients are not permitted within the offices. Names and contact details of visitors are recorded for ease of contact tracing.
Coworking spaces with in-house cafes and dining options have extended the lunch period from 12.30 to 3.30 pm so members can stagger their lunch. They have also put posters to prevent crowding in Café. Food and beverages, however, are being made available to customers by following all safety standards. Likewise, members who tested positive can resume work only after producing their COVID-negative certificate.
Seating arrangements that promote a sense of community and collaboration have been one of the main features of shared offices. Though people who work from coworking offices once looked forward to working at a different spot every day, they now want a desk space that no one else has used. Coworking spaces have had to make structural and layout changes to cater to such changing preferences.
Considering the importance of well-ventilated spaces during COVID-19, shared offices are utilizing their open layout to maximize customer safety. Desks are being rearranged to ensure ample distance between them and have been fitted with plexiglass shields. Layouts that make members face a wall are preferred as compared to previous layouts where-in members used to face each other.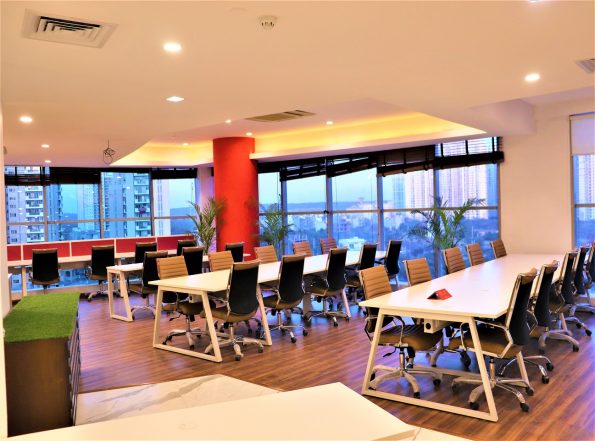 Managed offices, where a company can reserve a private, enclosed space for its employees, are becoming more popular during COVID rimes. Many operators, including The Office Pass (TOP), have added managed office solutions to their offerings. It provides all the benefits of the coworking office along with a dedicated space and privacy.
Also Read: Managed Offices to Gain Importance During COVID Times
Technology is playing a significant role in the coworking revamp during the pandemic. Many space providers are installing thermal cameras at the entrance to monitor the temperature of people entering the space. Instead of push and pull doors, coworking spaces are installing automatic doors and hands-free check-in to minimize the touchpoints in the office.
Similarly, lighting is being upgraded to smart lighting that can respond to voice commands or switch on and off automatically when a person enters the area. Software that allows operators to keep track of desk usage across different locations has also proved beneficial to ensure the safety of customers. They can now direct an employee to the closest coworking space with zero physical interaction.
Flexibility has always been the most defining feature of coworking spaces as it gives them an added momentum during COVID times. As the pandemic has thrown many businesses into economic uncertainty, people favor short-term agreements and on-demand workstations over traditional long-term leases.
Operators of shared office spaces are looking at ways to make themselves even more flexible than they were. In an attempt to offer customers optimal value for their money, many service providers are allowing customers to pay a fixed monthly rent and choose to have their employees work from an office close to their place of residence, popularly known as Neighborhood Coworking.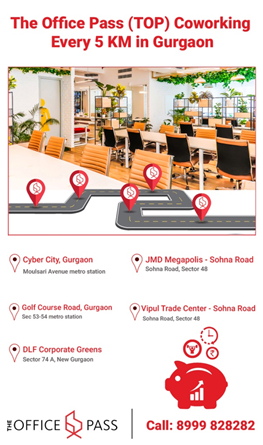 For example, you can have your employees work in location A for one week and then use location B for the next week. Or, you can choose desks at multiple locations at the same time, and employees can opt to work from the location nearest to their residence. Coworking providers also allow you to maintain the number of desks while reducing costs by changing the desk position. For example, you can move from window desks on the 10th floor to corner desks on the 1st floor – you may lose the view, but can save some bucks.
Networking is one of the biggest attractions of a coworking space. Before the pandemic, service providers of shared offices used to organize social events, de-stressors, and workshops quite regularly for the people working there. Today, these events have moved online. It makes attendance easier even if the person isn't present physically at her/his desk on the day of the event. Such events also enable members to plug into the community and get the support they need to survive the challenging times.
Behavioural signage is another measure many operators have adopted as part of their coworking revamp. Since repeated reinforcing is required for people to develop COVID-appropriate behavior, shared office spaces are installing behavioural signage and directions in all strategic spots within the office. Posters and boards on the importance of hand-washing and physical distancing placed in different languages as friendly reminders.
Summing It Up
As companies find their footing in the new normal, coworking spaces become the most practical and the safest choice. With the revamped design, layouts, structure, and practices, coworking spaces enhance safety and ensure COVID compliance. If you're looking for a coworking space that adheres to safety measures, check out The Office Pass (TOP)  or give a call at 89998 28282.