Coworking spaces are especially beneficial to small and medium businesses. When it comes to evaluating the impact of coworking on these businesses, we usually talk in terms of lowered overheads, lesser administrative headaches, better locations at more affordable costs, etc. 
There is another area where change is seen and felt, that is the company culture. Where  employees work affects how they interact with other members of their team, their values, decision making and so on.  Let's take a look at some of the coworking benefits of small and medium businesses in terms of company culture.
6 Reasons Why Small And Medium Businesses Choosing Coworking Spaces
1. Flexibility Is The New Buzzword
Coworking is all about flexibility. This is not limited to being able to choose your own desk every morning. It influences the way the organisation functions since flexibility has been found to have a direct impact on productivity.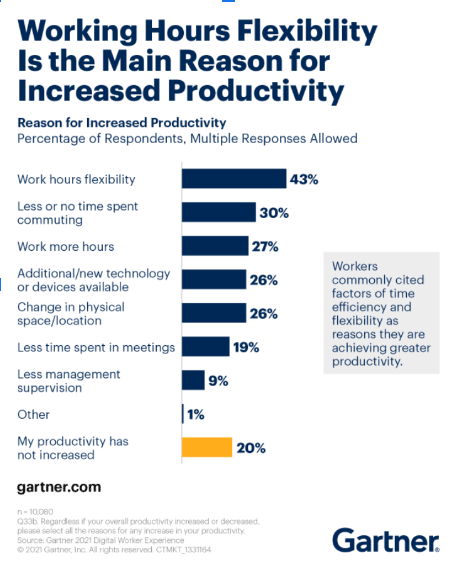 Source: Gartner
Companies are no longer expecting employees to follow rigid schedules such as logging in and out of work at specific times. Employees are being given freedom in choosing when and where they want to work. 
For example, while some employees may feel the need to split their time between a central Headquarter and coworking spaces, others may prefer working solely from coworking spaces. Flexibility can also be seen in the growing popularity of open floor office designs and non-assigned seating in spaces where companies see remote workers come together from time to time. Dress codes too have become more flexible. 
A flexible company culture is beneficial to employers and employees. It demonstrates respect for employees and makes it easier for businesses to find talented people for their teams.
2. Greater Individual Responsibility
Choosing a coworking office over traditional cubicles has also led to businesses giving their employees more freedom and individual responsibility for their projects. When a manager has 4 people on his team working from different locations, he/she cannot physically monitor the work being done. Hence, the work culture shifts towards having employees more answerable for their part in a project.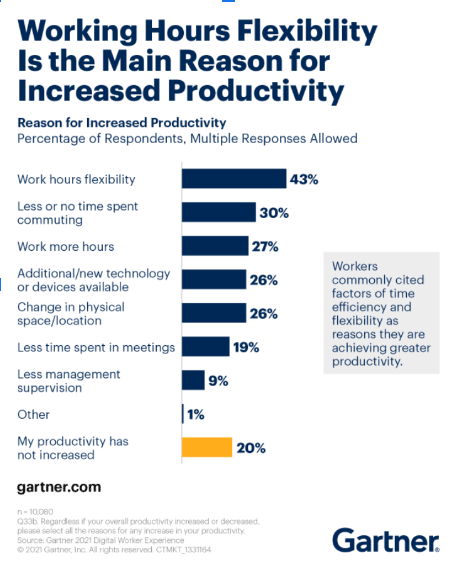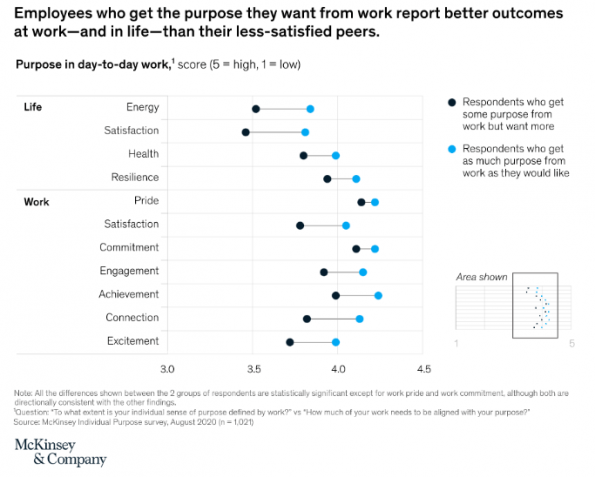 Source: Mckinsey
This shift in company culture is proving beneficial. As proved by a study, giving individuals ownership over their tasks brings about an increased sense of purpose and improves productivity. Being held accountable also motivates the team to put in a consistent effort towards their tasks even though they are not being constantly monitored. In turn, it builds loyalty toward the organization and makes them less likely to switch jobs. 
3. Performance-Driven Evaluations
Choosing coworking for medium sized companies also impacts the way employee performances are evaluated. Companies are changing their Key Performance Indicators (KPIs) to become more output and performance-driven. Employees have more freedom with inputs and processes and the focus for reviews is shifting to output in terms of the level of performance expected, ability to meet deadlines, regular check-ins, etc. It's more about the end result and less about how it was achieved.
4. Focus On Collaboration And Shared Success
Collaboration is a key part of coworking culture. It's what made the concept popular in the first place. From entrepreneurs and freelancers to professionals working with established brands, working out of a coworking unit creates opportunities to interact with people working in related or unrelated fields and collaborate with them. 
Many coworking service providers organize brainstorming and pitch sessions after work hours with the specific aim of helping people find collaborators. 
The benefits of collaboration are clearly visible. It's proof of the old saying, 'Two heads are better than one'. This is why small and medium sized companies are encouraging employees to work in collaboration with others rather than focus on individual victories. Rather than keep departments distinct, inter-department interaction and collaboration is being encouraged. 
5. Communication Gets More Attention
Coworking for small and medium businesses means that employees working on the same project may not always be sitting side by side. Thus, to ensure that work flows smoothly, companies have had to focus on improving their internal communication channels. Rather than expect daily calls and emails, centralised communication platforms where everyone can share ideas and inputs on a common forum have become more popular. 58% of the companies polled in a survey ranked video communication technology as the primary purchase or upgrade since the rise of remote working. 
6. Acknowledging The Need For A Personal-Professional Life Balance
With the growing popularity of coworking spaces, companies are acknowledging the need for a personal-professional life balance and paying more attention to employee wellbeing. Companies are taking more care of their employees. 
At coworking spaces, members can attend workshops and events after work hours. Taking a cue from this, companies too are investing in helping their employees relax, learn soft skills, etc. 
Summing It Up
Company culture is influenced by many factors including where people work from.  Hence it isn't surprising to see how coworking culture is influencing corporate culture among small and medium businesses. The changes are beneficial to employers and employees. In a large part, this is dependent on the coworking space your team works out of. You need a coworking space with a culture and value system that complements yours. 
The Office Pass (TOP) has coworking spaces in Delhi, Noida and Gurgaon and is ideal for small and medium sized businesses. The units are designed to give professionals a space and facilities that let them be their most productive selves. To know more, reach out to us at 08999 828282.