Gender biases are, unfortunately, very evident in the entrepreneurship space. Being an entrepreneur is challenging and the hurdles before female entrepreneurs are much higher than they are for their male counterparts. There are social barriers they must break down, restrictions on mobility and most frustratingly, the general assumption that female entrepreneurs have male partners who are the people in charge.
Even with these challenges, successful female entrepreneurs like Falguni Nayar and Kiran Mazumdar Shaw are household names today. Then there's of course, the most well-known entrepreneur of them all, Oprah Winfrey. If you're inspired by these women and dream of having your own business, here are 9 qualities you must have.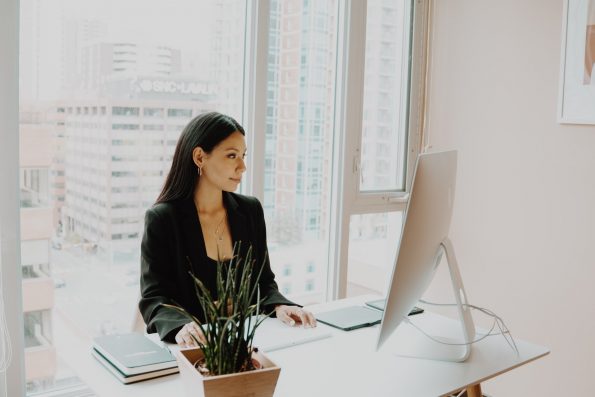 9 Top Qualities of a Successful Female Entrepreneur
1. Confidence To Take Risks
Being an entrepreneur means that you will need to take risks. For this, you need to have confidence in yourself and be unafraid to speak up for what you believe in. Having an assertive attitude is critical. That said, entrepreneurs must be able to weigh the pros and cons carefully and take calculated risks. 
To build your self-confidence, start every day by giving yourself positive affirmations. Set achievable goals and celebrate every milestone no matter how small it may seem. 
2. Passion And Perseverance
Passion is one of the most important qualities of women entrepreneurs that determine their chances of success. This is what will push you forward when faced with challenges.  Along with being passionate about your dream, entrepreneurs need to have a strong work ethic and be willing to persevere on their path irrespective of the issues that may crop up.
Putting up a vision board is an easy way to remind yourself of your goals and develop perseverance. 
3. The Ability To Connect
Networking is an important part of the entrepreneurship life. Successful entrepreneurs have good communication skills and the ability to connect easily with others. 
The key to this lies in being able to express oneself clearly, listen attentively and remember important details as well as find common ground with others and create a rapport with them. Overcoming challenges like getting landlords to trust female entrepreneurs and leasing space to them becomes easier for good communicators. 
The good news is that several studies have shown that women are naturally good communicators with strong listening skills. 
4. Creative Thinking
A poll found that 60% of CEOs cite creativity as one of the most highly desired skills for entrepreneurs. After all, this is the cornerstone of building a brand – you need to find an innovative product or solution to capture the market. As an entrepreneur, there will be numerous occasions when you need to think out of the box to gain an edge over the competition.  
Fortunately, women are known to be natural-born creative thinkers. 
Female entrepreneurs will face countless challenges in their careers. Funding is more difficult, there's pressure to stick to traditional gender roles, safety is a concern and so on. In light of these challenges, resourcefulness becomes one of the most important qualities of entrepreneurs. You need to be able to see out-of-the-box roles for the resources available to you so you can maximize their utility. 
5. Leadership
Leadership isn't necessarily a skill you need to be born with. It can be developed over time. As entrepreneurs, women need to be able to inspire and motivate their teams. They should also be able to prioritize tasks and delegate work accordingly. 
Leaders are often faced with tough choices and you must be able to take responsibility for your decisions and stand by them. 
6. Flexibility
As entrepreneurs, women need to be able to adapt to ever changing scenarios. Being goal-oriented is important but when required, you should be able to pivot and change routes to take advantage of new opportunities or avoid potential issues. 
It is critical to be able to look at challenges and opportunities in an open-minded way so that you can visualize their full potential and find a way around problems that seem to have no apparent solution.
7. Organization
Organizational skills and time management are important for any entrepreneur but even more so for female entrepreneurs. After all, women have to juggle multiple roles actively. Along with running their business, they are also responsible for running their homes, taking care of their parents, bringing up children and so on. You can multitask efficiently only when your tasks and priorities are organized. 
8. Willingness To Learn
To be a successful entrepreneur, one must always be open to learning. This could be learning how to use a new tool, picking up a skill or learning hacks on business growth and networking. Being open to learning also implies that you must be humble and respectful of everyone around you. Mentors aren't just established professionals, even a person just starting their career can have something to teach you. 
9. Empathy
Lastly, you need to be empathetic. Entrepreneurs must connect with their employees on an emotional level and be able to understand their point of view. This quality plays an important role in making women good leaders. Empathetic leaders will have more employees willing to stand by the company's vision. Moreover empathy helps in fostering a positive work culture. 
In Conclusion
The business world is a male-dominated one but the female presence is growing, albeit slowly. The society too is evolving to make it easier for today's female entrepreneurs as compared to the hurdles their predecessors faced. 
For example, renting an office space independently was one of the biggest problems for female entrepreneurs. Today, coworking spaces have emerged as a convenient alternative. 
When it comes to finding coworking spaces in Delhi, Noida or Gurgaon, The Office Pass is a name to be reckoned with. Their coworking offices are ergonomically furnished, equipped with a range of hi-tech solutions, easily accessible and safe. 
The Office Pass (TOP) members include fellow entrepreneurs as well as freelancers and remote corporate workers. It is designed to foster the spirit of collaboration and build a professional community. To know more, reach out to us at +91 89998 28282.