COVID hasn't just changed the way we look at our health but also how we work. For almost a year now, we've been working remotely and managers have been forced to agree that work hasn't come to a standstill because of it. It's proof that not everyone needs to be in a formal office space to be productive. One of the effects is a rise in coworking office spaces. Even the most old-school companies are looking into options for a coworking space. After all, there's no debate about its advantages.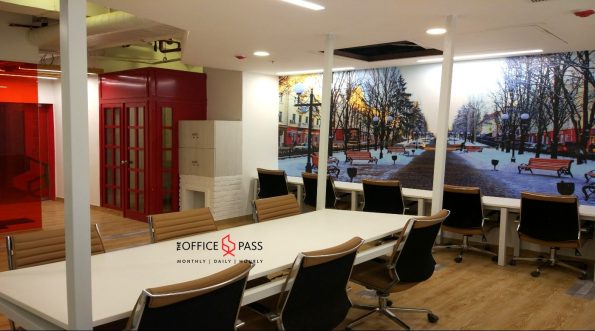 6 Reasons why coworking companies are growing rapidly post Covid
1. Easy To Scale & Flexible
A coworking company offers shorter and more flexible leases. Coworking office spaces also allow companies to lease out just as much space as they require. This allows the companies leasing the space to be flexible as they scale up or down.
Companies don't have to worry about blocking larger spaces when they don't have enough people to fill them just so that they have space for future hires as and when the company grows. Instead, they can hire a space that's enough for them at the moment and add more space only when it is needed.
2. Prioritize Employee Safety
Maintaining employee loyalty is about a lot more than just offering the right salary package. The post COVID office workspace needs to focus on improving the employee experience. A coworking space provider follows sanitization procedures to keep the space clean and hygienic as per MOH guidelines. It also plans seating arrangements that conform to physical distancing requirements while optimizing space usage. This allows workers to return to work confident that they aren't compromising on their health by getting back to the office space. Coworking companies are much safer than traditional offices in the post COVID world.
3. Optimized Operational Costs
One of the main reasons leasing space from a coworking company seems more beneficial as compared to traditional leased spaces is because of the way it helps optimize operational costs. The coworking company like The Office Pass (TOP) in Delhi NCR region, takes care of all operational and admin costs such as housekeeping, air conditioning, security, printing, tea & coffee etc.
When it comes to returning to post COVID office work, companies also have to consider sanitization protocols. Since maintaining these protocols is taken care of by the space provider, companies can offer their employees a safe space to work in without any additional expenses.
4. Helps Expand Your Reach
Instead of investing in a single large office space for everyone, companies can set up smaller but distributed coworking spaces at multiple locations that are more easily accessible to employees. This is beneficial for employees and the employer. For employees, this means reduced commute time as they are able to operate from a Coworking space close to their place of residence. For the employer, this helps reach out to a wider talent pool. It also helps in retaining employees as they are able to strike a decent work-life balance.
A potential employee's location is no longer one of the factors determining their employability. They can now hire people from anyone and set them up to work near home.
5. Helps Keep Your Private And Professional Lives Separate
One of the most common challenges faced by people when working remotely has been the blurred lines between personal and professional time. What begins as multitasking can lead to reduced productivity on both fronts. This can be frustrating for the employer and the employee.
For all the comforts associated with working from home, it lacks a professional aura. At the same time, the convenience offered often makes it beneficial as compared to getting back to a central office space.
A managed office helps redraw these lines while maintaining the advantages of both scenarios. The offices are closer and hence employees do not have to travel far and space can be designed according to the company branding to maintain a professional look.
Holding meetings in coworking spaces is much more professional than meetings in coffee shops and helps the brand maintain its look and create good impressions on clients, investors and partners alike.
6. Sustainable Working Environments
Sustainability is a buzzword that has been gaining global traction over the past few years. Leasing coworking spaces rather than investing in a central office space helps companies dramatically lower their carbon footprint. Everything from electricity consumption to emissions from HVAC systems is lowered.
Finding A Coworking Company That Is Right For Your Post COVID Office Work
In 2019, the global coworking spaces market was valued at $9.27 billion. The valuation dropped due to COVID to $8.24 billion in 2020 but is expected to recover and reach $11.52 billion by 2023. Thus, as expected, companies wanting to lease coworking spaces have no dearth of choices.
That said, not all coworking spaces are the same. A managed office is a hybrid between traditional centralized office spaces and coworking spaces. It offers all the conveniences and benefits of both worlds.
Managed offices can be leased for shorter periods than traditional offices but need not be on a day-to-day basis. Hence, it offers stability. The leases are transparent and space can be expended whenever needed to maintain flexibility for growth.
With a managed office, companies can also brand their spaces. From wall color schemes to furniture layouts, customization helps them maintain the look and feel they want to project. At the same time, resources like printers, kitchens, etc. are common to all the companies using the space and hence operational costs are lowered and sustainability is improved.
If your company is looking for coworking office space in Delhi, Noida or Gurgaon, take a look at the services offered by The Office Pass. For more information, call us at 8999 828282.