The COVID-19 pandemic has triggered a major shift in the working patterns of individuals as well as organizations. With the world trying to adjust to the demands of physical distancing, commuting to and from offices has become a big challenge. Even more so for people who avail public transport and cabs every day to travel to their workplaces.
Working from home is the safest solution to avoid crowds and commuting, but it has its own disadvantages. A working arrangement that combines the convenience of location and the amenities of a fully-equipped office seems like the ideal solution here. This is where walk-to-work emerges as a smart and feasible alternative.
What is walk-to-work? What makes it the safest as well as the most sensible option in the post-COVID world?
So, what is walk-to-work?
Walk-to-work, also called neighborhood coworking, is a new trend gaining momentum in many Indian cities. In this model, you don't have to commute to your centralized office but can work from shared office spaces set up in locations near your residence (typically within a radius of 5 km or less). Organizations, irrespective of their size, can opt to work from neighborhood coworking spaces. Listed below are a few ways in which Walk-to-work helps you reclaim your professional life without jeopardizing safety standards.
Ways in which walk to work can help you to reclaim your professional life post Covid-19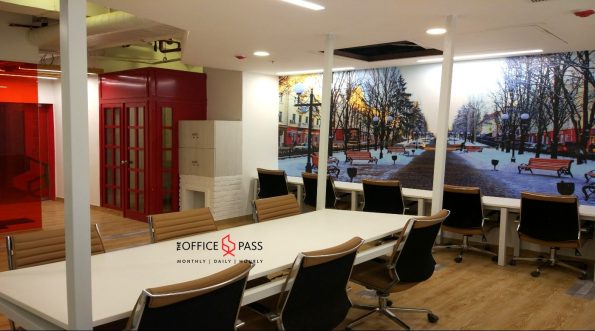 You reduce the risks of commuting to work
There's no denying that office goers have always disliked commuting long distances during rush hours. Add to that the current risk of COVID-19, the situation becomes grimmer by many notches. Commuting in crowded buses and travelling with strangers in metro trains or shared cabs are not just inconvenient but risky too.
Also Read: Work From Home Vs Shared Office Space or Coworking Space
Walk-to-work provides an easy and effective option to keep the risk of infection at bay even as you begin to work in COVID-19 times. You can choose to work out of a coworking space located within walkable distance of your residence.
You can work out of a productive environment
The pandemic has made everyone realize the advantages of remote working. While work from home can be a solution for remote working, it may not necessarily be the best option for everyone. You may not be able to give your cent percent while remote working from home, thanks to various distractions such as the TV, kids, household work, inadequate ergonomics, lack of balance between personal and professional life, etc.
This is where work from coworking offices once again scores high. Neighborhood coworking spaces can provide you with a professional environment where you can be your productive best. In other words, the walk-to-work initiative will help you separate your work from your personal life, thereby creating a healthy work-life balance.
You gain a sense of community
While there are many advantages to remote working, one downside is that you may miss out on socializing with your colleagues, especially when you work from home. At times, this can lead you to feel isolated, lonely, and disconnected, which, in turn, can adversely affect your mental health.
When you opt for neighborhood coworking and begin working from a shared office space, you won't feel isolated anymore. You will not only work from a coworking office but also interact with your co-workers and become part of the co-working community. All these will help you to gain a sense of community while you work in COVID-19.
You get to explore networking opportunities
Since the advent of the pandemic, business networking and collaborations have taken a dip. It is reported to have severe ramifications for freelancers, solopreneurs, and start-ups that rely heavily on networking for business opportunities. Neighborhood coworking remedies this issue to a considerable extent.
Also Read: What changes coworking spaces have made during Covid-19 Crisis
A coworking space often serves as a hub for professionals belonging to various fields. By being in close contact with such people and interacting with them regularly, you will be able to grow your professional network. It can pave the way to collaborate with like-minded individuals, learn, and grow in your professional field at an accelerated speed.
To sum it up
When all things considered, walk-to-work or neighborhood coworking is one of the safest and most sensible ways to get back to the office-going mode in post-COVID times. By embracing this model, you can accept the new normal and abide by its demands yet enjoy a professional and productive life.
Are you interested in joining a neighborhood in Gurgaon or a coworking space in Noida located near your residence? Check out TheOfficePass (TOP), a platform that provides all the facilities and a flexible work environment to help you get back to work without compromising on your safety.