When looking for an office in any Indian city, one of the first questions that come to your mind is "furnished or un-furnished"? It goes without saying that an un-furnished space and a pre-furnished office come with a set of pros and cons. The former typically has lower rentals, while the latter takes the burden of setting up the office off your shoulder.
However, these are not the only factors you must take into account while making the final decision. You've also got to think about how soon you need to start working out of the new office, what you want your office to look like, what is the size of the company, and what is your investment ability, among others. Here are some of the furnished vs. unfurnished office differences you should know to make an informed decision.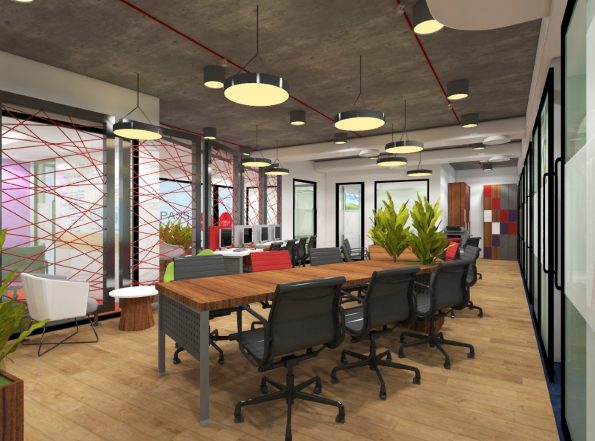 6 Major Differences between furnished vs unfurnished offices
1. The Total Cost
As mentioned earlier, the cost of renting out an unfurnished office is 10-15% lower than the cost of renting a furnished office of the same size. High rent rates are often considered one of the main cons of furnished office spaces. However, you can't work out of an empty office – your office will need to be furnished with desks, chairs, cabinets, etc. You will also need Wi-Fi, printers, lockers, whiteboards, and other office supplies and equipment to function smoothly.
If you value quality, the cost of these purchases can be quite high, as high as INR 2,500/- to INR 3,000/- per square foot. On the other hand, though the rent of a pre-furnished office may be slightly higher, it is an all-inclusive cost.
2. Things on Your To-Do List
One of the most important pros of furnished office rentals is that it ticks off several tasks on your to-do list. You don't have to go around looking for furniture or find the materials needed to build custom furniture that would fit the space. You don't have to bother yourself finding professionals to furnish the office or bargaining with sellers.
If you opt for a furnished office in a reputed coworking space, you stand to gain more. The facilities at shared offices include not only the furniture but also administrative services, and facilities like Wi-Fi, whiteboards, access to meeting & conference rooms etc. Thus, it saves time and effort, allowing you to focus more on your business and growth plans.
3. Quality of Office Furniture
When you look for furniture like office chairs, you'll see a large array of products in a wide price range. Does this mean that you need to buy the most expensive product to get good quality? Not necessarily, but you need to know how to select the right furniture for your office. As you try to stay within your budget, you may find yourself buying lower-quality furniture.
Unfortunately, you can assess the quality of office furniture only much later when it starts developing recurring issues. On the other hand, when you rent a furnished office space or coworking office, you can check the quality of furniture before you sign the lease. Moreover, if there are any issues, the management will typically take care of them.
Also Read: Difference Between Coworking and Shared Office Space for Freelancers
4. Time Taken to Get Operational
One of the main furnished vs. unfurnished office differences that could affect your decision is the time taken between signing the lease and moving into your new office. In the case of an unfurnished office, it could be a few weeks typically 6-8 weeks. After signing the lease, you'll need to plan your furniture layout, buy furniture and appliances, and furnish the space before moving in.
On the other hand, when you rent a pre-furnished office or a shared office space, you can move in almost instantly. All you need to do is bring in your files and your computers, and you're ready to get working.
5. Building the Right Brand Image
For many, one of the benefits of furnishing your office is that it gives you control over office branding. But, did you know that even when you rent a furnished office, you can still decorate it to match your brand image? You can then use decals, posters, etc., to reinforce your brand colors in the décor. A coat of paint on the walls in your brand colors can instantly transform the atmosphere.
That's not all! Many renowned coworking space providers like The Office Pass (TOP) offer managed offices where the office space is custom-built by the service provider to suit your needs. In other words, managed offices offer you the benefits of furnishing your office, while the task is fully handled by the service provider.
6. Maintenance
To maintain a professional look and ambiance, you must keep your office space and your furniture well-maintained at all times. If you furnish the office on your own, you are responsible for the maintenance of the furniture. It could be a tiring affair that consumes your time, money, and energy.
However, when you rent a furnished office, the responsibility of maintaining the equipment and furniture falls to the office leaser. All you need to do is pay for the usage as mentioned in your rental agreement.
Summing It Up
In most cases, choosing to move into a pre-furnished space is the smarter move because the pros of furnished office rentals often outweigh their cons. Though you may think that it's more expensive, it actually isn't, and you get peace of mind that all your maintenance requirements are taken care of. What's more, you get the confidence that your office space exudes a professional look, and you can move in as soon as you sign the lease. Furnished offices are an excellent choice for small startups as well as established businesses.
If you're not looking for an entire office space for yourself, you could consider moving to a shared office space. In addition to the benefits mentioned above, you also get to enjoy the flexibility to accommodate additional employees as your company grows.
Interested? Get in touch with The Office Pass (TOP) at 8999 828282 to rent coworking space in Gurgaon, South Delhi and Noida.