Millennium city of India "Gurgaon" is home to many large and medium global corporates. The past two decades have seen MNCs moving from popular commercial areas in Delhi like Connaught Place, Nehru Place and Rajendra Place to Gurgaon. Shared Office in Gurgaon is fast gaining currency among some segment of the working population. Read on to know more.
WHAT ARE THE OFFICE REQUIREMENTS FOR MSME & FREELANCERS IN GURGAON?
Emerging business including Micro Small and Medium Enterprises (MSME), Small and Medium Business (SMB) and freelancers typically follows mature businesses in their choice for office space and they too started moving to Gurgaon. Because of this huge influx, office space rentals in parts of Gurgaon have increased from INR 30-80/- to INR 60-110/- PSF over the past decade or so.
Although MNCs & large Indian businesses are comfortable paying high office rent, these rates are prohibitive for MSME & Freelancers. They look for affordable office spaces in the range of INR 45 – 70/- PSF.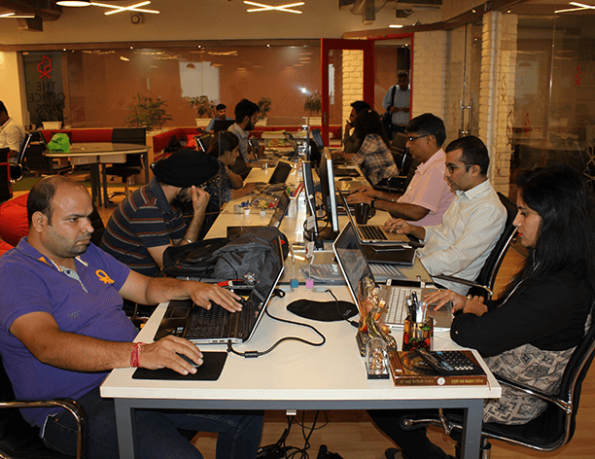 WHY MSME & FREELANCERS SHOULD NOT TAKE OFFICE ON RENT IN GURGAON?
When the business is small, one tries to balance between growth and expenses; every penny saved is critical during a period where revenues are not sufficient to cover other costs. Some businesses make the mistake of putting money in non-productive areas that do not directly help in revenue or customer growth (two of the biggest focus areas for small businesses). This is an avoidable mistake.
WHAT ARE THE EXPENSES ASSOCIATED WITH TAKING OFFICE ON RENT IN GURGAON?
When businesses take their own office on rent, they end up blocking money in security deposit (equivalent to 3-6 month rent), office furnishing (approximately INR 1200-1400/- PSF) and committing a lock-in period (equivalent to 2-3 years). These commitments are avoidable till businesses generate sufficient surplus to enable such long-term commitments. Then there are other expenses like electricity, tea & coffee, office boy, internet, telephone line, office equipment like printer & scanner etc which takes up time & management bandwidth.
COWORKING, SHARED OFFICE IN GURGAON
In Coworking, Shared office in Gurgaon you do not have to pay any security deposit, these places are tastefully done-up, so you do not have to spend additional money on furnishing & fixtures and there is no lock-in period (so you can use the office space for as long as it meets your requirement). You are not charged a per square feet (PSF) monthly rental for the office space; instead, you pay per person for the number of employees using the Coworking space. You can add a seat if your business expands and you can reduce based on the requirement.
PRICING OF A COWORKING, SHARED OFFICE IN GURGAON
You are charged a small price per seat per month called a membership fee. The price ranges from INR 6,000 – 10,000/- depending on the services offered by the Coworking provider. You can book the seat for a month or few days or even a few hours in a month (in case your work does not require going to the office every day) which can further reduce your operating expenses. All charges are payable in advance for the month.
DISCOUNTS OFFERED BY COWORKING, SHARED OFFICE SPACE PROVIDERS
Coworking spaces often offer discounts if you pay in advance for 3-6 months. These discounts typically range from 5-10% for 3-6 months respectively. There are additional discounts available for female coworkers (so if you have female employees in your MSME setup you can avail of the office space at a reduced cost).
WHO SHOULD USE COWORKING, SHARED OFFICE IN GURGAON?
While MSME, SMB and freelancers may aspire to work alongside large global corporations, they may not "yet" be financially ready to take on this additional cost. Coworking or Shared office spaces come in handy as they allow small companies to taste, best office space experience, without drilling a hole in your pocket.
If your small business looking for office space in Gurgaon, we strongly recommend that you consider The Office Pass, a coworking space in Sohna Road. Our recommendation is based on a few things which will be beneficial in the long run.
Also Read: Cyber City Gurgaon a Coworking Space Hub
AFFORDABLE PRICING
When compared with other locations in Gurgaon, Sohna Road offers a good return for your money. Coworking spaces like "The Office Pass in JMD Megapolis building" charge a relatively low membership fee while facilities like WiFi access, Coffee & Chai, printer & scanner are provided for FREE. The monthly membership cost is charged on a per-seat basis and ranges between INR 7,000/- to 9,000/- per month.
FACILITIES & SERVICES
Before you finalize a coworking space in Gurgaon make sure it has all the facilities that are typically available to a large and medium global corporate (no compromises here). Facilities like a nice and decent looking office (avoid places that try and fit people like in a call center), Hi-speed WiFi connection, printer & scanner facility, Coffee & Chai depending on your preference, access to conference and meeting rooms and good air-conditioning system (especially because the temperature in Gurgaon can touch 45 degrees in summers) should be checked.
MEETING & CONFERENCE ROOMS
If your business requires you to meet customers or vendors face to face, make sure that Coworking space has space to hold a meeting or do a conference call with a client.  However, if you do not expect customers to visit you, this criterion can be ignored.
FLEXIBILITY IN CONTRACT
Some Coworking space providers ask for a 1-2 months fee as a security deposit and some have a lock-in period of 2-4 months (before which you cannot vacate). On the other hand, some allow you complete flexibility and do not have a security deposit and lock-in period. Prefer the shared office spaces that provide flexibility in contract terms to its users.
COMMUNITY
If you can benefit from the experiences of other Coworkers and vice versa, then you achieve more while at work. You become part of a larger community and culture that thrive on each other's experience. This can bring life into your business, and providing you the ability to give something back too.
If you are looking for Coworking space in Gurgaon, keep the above points in mind before selecting a space.
Happy Coworking.