WHAT ARE THE TRENDS IN COWORKING in india?
Indian society is opening up and fast becoming a shared economy. Young at heart is sharing their personal information and letting their friends get a sneak peek into their personal spaces. This is not restricted to a mere sharing of pictures on Facebook and Instagram but the sharing extends far beyond.
Indians are increasingly sharing a cab ride (UBER) and their home spaces with complete strangers (AirBnB) if there is a material economic benefit. Coworking in India seems like the next big logical extension for this upwardly mobile generation and is an emerging trend.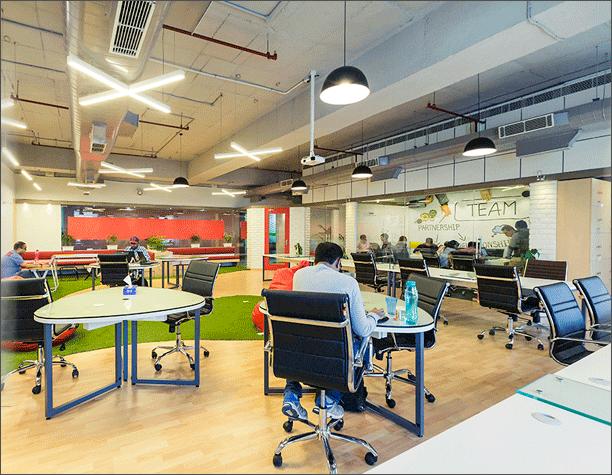 IS COWORKING REALLY THE NEXT BIG THING?
While it's still a relatively new concept here in India, Coworking has been a huge success wherever it's been implemented across the globe. As Matt Cooper so well put it, "This evolution of Coworking – from a desk and a chair, to a collaborative workspace, to a curated community – will only continue as companies and professionals grapple with the changes in how, when and where we work."
WHAT IS COWORKING?
The concept essentially involves an environment where a few professionals, small companies, freelancers and startups come together to plan about and work on or towards their business. This environment is basically an office space, complete with all facilities and infrastructure that one requires during their hours at the office. This includes but is not limited to peace of mind, high-speed WiFi connectivity, coffee & chai, conference & meeting rooms, printing and lockers facilities.
WHO SHOULD USE COWORKING?
Coworking is best suited for Micro Small and Medium Enterprises (MSME), freelancers, people who otherwise work from home or someone who often has to travel to cities where an office hasn't yet been built to house him. If you are an MSME or a freelancer looking for Coworking space in Gurgaon, have a look at The Office Pass at Sohna Road, as it is customized for your needs.
WHY YOU SHOULD USE COWORKING OR SHARED OFFICE SPACE?
Trying to create your own identity amongst an insane amount of established firms, corporations and conglomerates can be extremely daunting, and that's where Coworking steps in to lend you a hand. Instead of spending significantly on your infrastructure, living a little apprehensive of getting returns on your investment, being a single man against the rest of the world, and lastly, the impact of the work both physically and mentally can be overwhelming, to say the least.
Also Read: Top 7 Coworking Advantages for Mid-Size Companies
What you'd ideally wish for in such a scenario would be your own office, a core group to share with, and just enough informality to make you take your mind off the huge task head when you want. These demands might seem far-fetching, but a Coworking space ticks all the boxes. It is said that collaboration equates to software, whereas Coworking is the hardware.
What is the ADVANTAGE OF COWORKING IN INDIA?
When you step into a Coworking area, you get a chance to interact with people who are all in the same boat as you are. You can brainstorm, share, and interact with people going through the exact thing you are. It provides you with a chance to build new relationships; broaden your network, gets to know what tomorrow's CEOs are planning today, while at the same time retaining your own identity.
The balance between formal and informal is spot on so that you have no distractions at work, a slightly casual but nonetheless professional workplace environment, all basic facilities, everything that a regular office would have, an area dedicated simply to recreation, and a zone to recharge your batteries so that you enjoy your work, and are able to achieve maximum productivity.
COWORKING IN INDIA – SUMMARY
If you have the ability to spot trends and have been at the forefront of adopting new ways of doing things, experience Coworking now. With all going for it, Coworking is going to become the new normal.