There's more to a coworking space than just being an affordable option to working in a professional environment. The flexible atmosphere of coworking offers a lot of things that you miss in a traditional office. No wonder, this new age concept of working together with people from various backgrounds is attracting all kinds of professionals, including freelancers, techno nomads, solopreneurs, entrepreneurs, and individuals. Here is a quick comparison between Coworking Vs Traditional Office.
6 Major Differences Between Coworking Space Vs Traditional Office
Multiple Opportunities for collaboration
Whether you are a freelancer or an entrepreneur trying to carve out your niche, collaboration can give a big boost to your business. While a traditional office provides you limited chances of collaboration, the scene can be quite different in a coworking space.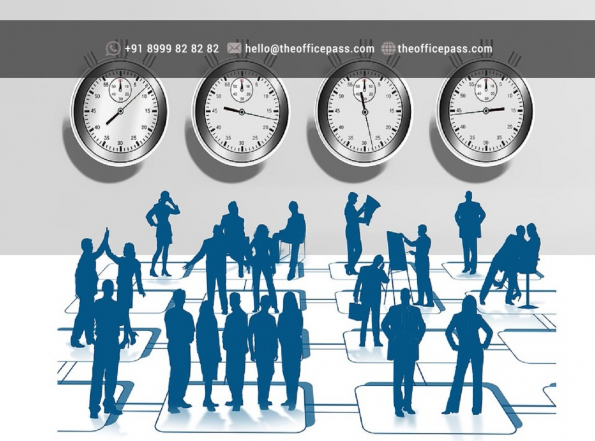 A Coworking space is a hub of professionals coming from different fields of work and having different capabilities. When you are a part of such a varied group, you get multiple opportunities to collaborate with the right people and take your business to new levels.
Access to talent
Regardless of whether you want to fly solo or go ahead with a team, a shared office is one of the best places to access talent. When you are surrounded by a group of talented individuals working near you, the possibility of finding talent is paramount.
For instance, if you are working out of a coworking space and are looking for a graphic designer or a CA, the chances of finding one or getting a reference of one from your Coworker is quite high. They would be glad to service a fellow Coworker and grow their business and network. But the same may not hold true in the case of a traditional office.
No colleagues to compete for growth
When you are part of a shared office, it leads to a greater sense of community. The same can be missing in a traditional office. The main reason is that when you work for the same organization, there can be an underlying feeling of competition among colleagues. But the same isn't true of coworking spaces. Imagine that you are part of an affordable shared office in Noida. The coworking circle at such a place will have like-minded individuals working to make a mark in their own line of work.
Such people are less likely to harbour a competitive feeling against you and are more likely to have a helpful attitude. As part of a group of individuals, each trying to fulfill their work aspirations in a passionate manner, you will find more support and a feeling of community from your Coworkers.
Informal networking prospects
Considering that you work in a traditional office, think about the people with whom you interact day-in and day-out at your workplace. These people will be your colleagues who work for the same company as you, right?
Also Read: Top 7 Coworking Advantages for Mid-Size Companies
Now imagine that you work out of a coworking office in Gurgaon. Such a place will have dozens of people, if not more, belonging to different professional backgrounds and working for different organizations or dealing with their individual businesses.
It will be akin to an ecosystem of professionals, each of whom can turn into an informal business network. You need not have to network in a structured manner. Having daily encounters with some of these people can pay a rich dividend for your business, sooner or later.
Can you expect to find such networking possibilities in your traditional office? We don't think so.
Diversity in work environment

<

A traditional office is a place where you are bound to work with the same set of people in a fixed setup. Since all of you will be working for the same company, there won't be much diversity in the work environment.

In a coworking environment, you work along with a diverse set of people. Such a setup can turn into an ecosystem of innovation and creativity. You will be able to bounce ideas off such diverse individuals and sharpen your creativity.

In other words, the diverse work environment in a shared office can turn into a breeding ground for your creative persona.
Valuable expertise at an arm's length
As part of a traditional office, you will be interacting with your colleagues and exchanging information. This can be limiting in some ways as you will interact with a set of people whose line of work is similar to yours.
Now, consider that you are a freelancer coworking in an office for rent in Noida. What you can expect to find there is a heterogeneous mixture of individuals with all kinds of professional expertise. This provides you the opportunity to learn new things.
When you rub shoulders with different professionals, you get to learn new things. In other words, your Noida coworking or shared office space for freelancers can double up as your learning ground for new skills. Where can you expect to find such expertise in a traditional office?
What's more? The non-traditional office environment and the flexibility to work from a location of your choice come as added benefits when you choose a shared office space. That's the icing on the cake for sure, isn't that?