Long hours at the workplace, busy schedules, and a sedentary lifestyle can all come together to impact your health negatively. Even if you have opted to work out of a coworking space, at the end of the day you are spending most of your time sitting behind a desk, which is not at all good for your physical fitness. While giving up on work is not an option, you cannot also stay glued to your computer for hours on end. So what's the best way to manage both, your health and work, in a balanced and no-so-tiring manner?
The smartest and easiest way out is to incorporate your fitness plans within your office schedule. Sounds intriguing? Here are a few effective tips you can follow to keep you fit while at work.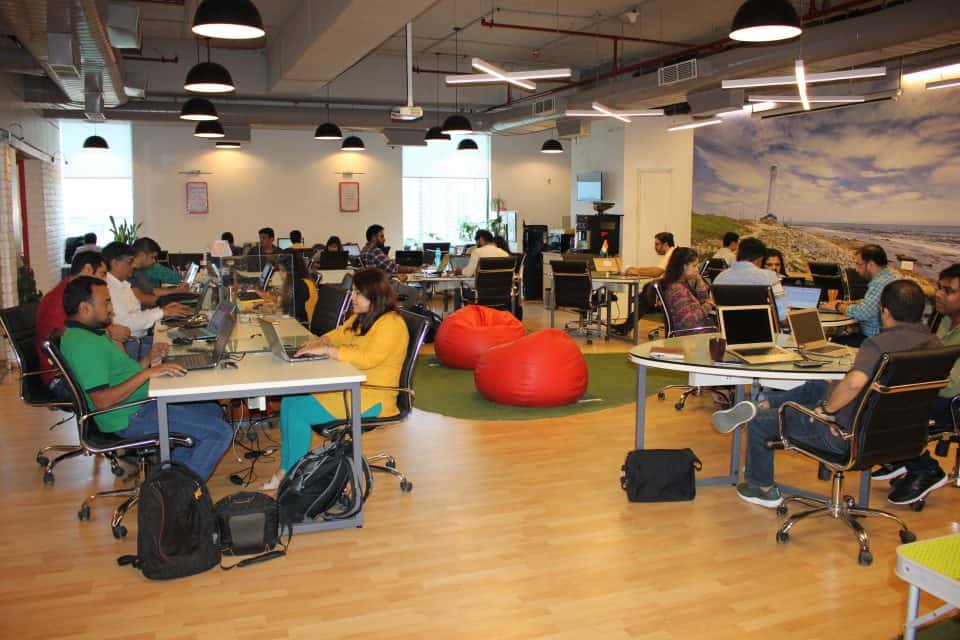 Start your fitness routine at work by saying 'no' to the lift and 'yes' to the stairs. It's a simple yet effective way to include a short activity span in your office life. To include more steps in your daily routine, you can park your car at the spot that is furthest from the entrance and walk down the distance. If you are using public transportation, consider getting down one stop away from your office for the same purpose.
Indulge in stretch breaks
Give yourself a small stretch break every half an hour. Get up from your desk walk around for a few minutes. You can walk down to a colleague sitting at another side of the room or a few levels down to say hello. Or you can walk up to the photocopier to get your papers copied. If nothing else, you can simply walk over to an empty corner of the office and stretch your hands and legs before moving back to your desk.
Many people coworking for long hours complain about shoulder and back pain. Most of the time, it is the incorrect posture that is to be blamed. In other words, maintaining a correct posture while sitting behind your desk can spare you a lot of such physical troubles. When you are seated at your desk, make an effort to sit erect and avoid bending or hunching at the desk to reduce the stress on your spinal cord.
People coworking in Gurgaon and other places frequent the nearest fast food joints during the lunch hour or in the evenings for a quick bite. While it's convenient to eat out, your lunch box is one of the important factors determining your health. To begin with, you can start including healthier food choices for your lunch. Also, you can save on the bucks if you carry your lunch from home. Finally, if you don't visit a fast food joint, you save yourself the indulgences and temptations that are never good for your fitness.
Skipping fast food at lunchtime and then indulging in unhealthy choices for snacks will take you back to square one. An easy way to indulge in healthy snacking is to fill your drawers with healthy choices of food. You can stock up on fresh fruits, dry fruits, fat-free yogurt, a small packet of nuts, and such other items in small quantities to eat whenever you feel the hunger pangs. Also, avoid the vending machine in your shared office space to spare yourself any kind of temptations.
There's no doubt that staying hydrated is one of the elemental requirements of staying fit. Even if you are working inside an air-conditioned shared office in Gurgaon, you need to maintain your water intake. Drinking plenty of water throughout the day not only helps to keep you hydrated but also flushes out the toxins from your body and helps you to stay alert all day long. Water can also curb the hunger pangs and prevent you from over-indulging in snacks.
There are several exercises that you can do to keep up with your fitness endeavors in office. The best part is that you can do them sitting right at your desk. So, instead of gossiping with your colleagues at the coffee machine, you can actually do your body a favor by exercising during such breaks. Keep a resistance band handy. If your coworking space has a gym, you can spend your break there to work out your body with a few quick and easy exercises.
These tips will help you to stay on the fitness track in your office. Start by incorporating one or two changes initially and gradually include all these points in your fitness plan. The idea is to make long-lasting changes in your office routine so that you won't have to compromise on your health ever again.