Of the many trends that revolutionized the concept of modern workplaces, coworking spaces and managed offices top the list. The former, which is also called a shared office, is a collaborative setup where you share the space and amenities with other businesses. In contrast, a managed office is a dedicated private office tailored according to your requirements by a third-party operator.
While both coworking spaces and managed office space solutions are rising in popularity these days, how do you decide what is best for your business? Here's a 7-point checklist to help you out:
7 Major differences between Coworking Space  and Managed Office Space
1. What Is the Size and Maturity of Your Organization?
The size of your organization and the maturity of your business are two crucial aspects to consider while making a choice between coworking and managed offices. A shared office is ideal for start-ups, SMEs, and growing brands, thanks to its informal setting, pay-per-desk plans, flexible leasing, open floor layout, and networking opportunities.
Custom-managed office solutions, on the other hand, are best suited for established corporates and medium to large companies. You get an entire office dedicated to your business without the burdens of a traditional leasehold. The office is managed and maintained by the service provider, making it easy for established businesses to focus on their core business operations.
2. Does Your Business Deal with Confidential Information?
Privacy and data security should also be your top priority, and for obvious reasons. Coworking spaces have open office layouts without cubicles or cabins, and the occupants must share amenities like Café, printers and Wi-Fi. All these make your sensitive information susceptible to prying ears and eyes.
Managed office space solutions score high on privacy and data security and hence are more suitable for businesses dealing with sensitive information. As you are not sharing the space with anyone outside of the company, you face fewer security risks. Likewise, you can install your own printers and secured networks to further reduce security threats.
3. How Much Can You Spend?
Before deciding in favor of coworking offices or managed spaces, consider the costs in detail. Though both the options are more cost-effective compared to traditional offices, the monthly rentals and security deposits for managed offices are relatively higher than shared office spaces. In addition to these, you must pay around 20% of the actual cost towards the office management fee.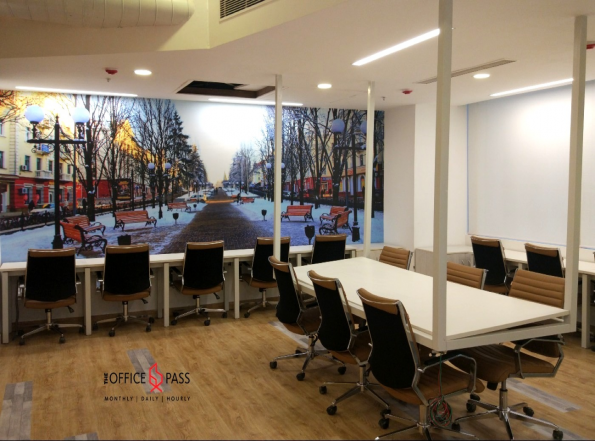 Moreover, managed offices attract other charges that a coworking space doesn't. For instance, while the service provider will furnish the office as per your requirements, you will be required to share 50% to 75% of the furnishing charges. Needless to say, coworking spaces are an ideal option for start-ups and entrepreneurs in the bootstrapping stage as it helps reduce costs. Learn how.
4. Are Your Requirements Fixed or Likely to Change?
As a general rule, managed offices are best suited for companies with fixed medium-term requirements. The leasing terms of managed offices are less flexible, and the contract period is longer than coworking offices. If you happen to downsize the company during the contract period, you must continue to pay the full rent. Likewise, a full-term contract comes with a lock-in period of 3 years or more, which can be a hassle if your requirements change or you want to exit the office.
On the other hand, flexible leasing is one of the main coworking spaces advantages. Shared office contracts allow you to add or remove a few desks during the contract, making it easy for you to upsize or downsize the company. The term of the contract is short (11-12 months),  so you can exit the office or look for alternate solutions as your requirements change.
5. How Important Is Brand Identity for You?
When you want your workplace to reflect your brand voice and corporate identity, managed offices are the right choice. Your brand identity can be mapped to every aspect of the office, such as the colors, furniture, décor, furnishings, and more. Managed office services are best suited for organizations that want to promote their brand identity through the workplace.
In contrast, coworking spaces are pre-designed offices kitted out with all facilities. The scope for highlighting the unique identity of your brand is next to none in a shared office space.
6. Is Collaboration Crucial for Your Business?
A coworking space is much more a workspace – it also doubles up as an avenue for networking and collaboration. It serves as a collaborative ecosystem and allows people from diverse businesses and industries to network and work in partnership with one another, mutually benefitting from their strengths and skills.
Managed office spaces, however, are private offices that don't promote high-degree collaboration and networking. Such spaces provide your business with an effective environment to focus on your core business activities.
7. How Soon Do You Want to Move in?
Lastly, when you want ready-to-move-in office space solutions, coworking offices are the way to go. You can move in and start working out of the office as soon as the leasing formalities are completed.
Since managed offices are customized according to your requirements, you can move into the office only after the furnishing work is completed. It might take a few weeks, or even months, depending on how much customization is required.
Final Thoughts
While it is important to have a workspace, choosing the right type is equally important. The questions in the checklist above will help you weigh your options and make the right choice. Want more guidance? Contact The Office Pass (TOP), one of the leading coworking and managed office space providers in India.