It's no secret that millennials favour change. They don't like being tied down to structure and hierarchy – flexibility is their buzzword. We're not talking just about their lifestyles, but also their way of working. The most preferred workspace for 2022 isn't the corner office of the 2000s, it's a coworking space. From freelancers and entrepreneurs to consultants and employees of established MNCs, coworking is appealing to all millennials. Let's learn why.
Top 7 Reasons Why Millennials are Choosing Coworking Spaces in 2022
1. Something New Every Day
Millennials are always on the search for new experiences in their personal and professional lives– they want to experiment and try new things. Repetition bores them. So, millennials aren't lured by the promise of a fancy desk where they can see the same view from their window day after day.
At coworking spaces, they can choose a new place to sit every day. When they want to focus on details, they can choose a desk in a corner and when they're feeling social, they can pick a seat at a shared desk. It's literally a new experience every day.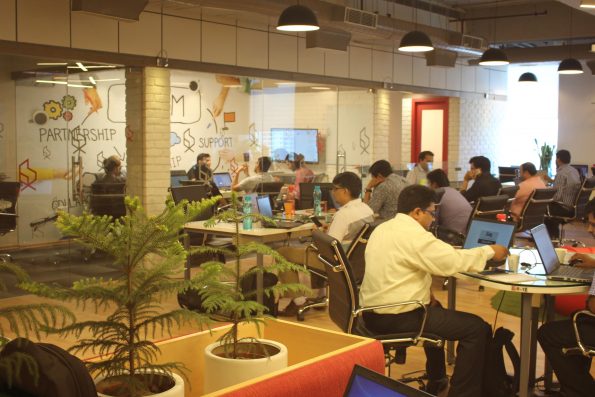 2. Nothing To Tie Them Down
Flexibility is one of the biggest advantages of coworking that makes the concept appealing to millennials. They don't want to be tied down to anything, including a job. A survey of Millennials showed that over 70% of those employed in regular jobs dreamed of quitting to begin building entrepreneurial careers. 
Coworking appeals to these freelancers and entrepreneurs since it gives them a professional platform to work on without the pressure of long leases. Instead, they can lease a single desk or 10 desks or a managed office for a day or a month, as needed. It gives them the flexibility to set their own work schedules and work from a place that is convenient to them.
3. Opportunities To Network
Millennials recognize the potential of a professional network. A survey of over 7000 millennials showed that 56% of them were introduced to a new job by a casual conversation with someone on their network. The challenge lies in creating connections. Working from a shared office space breaks down barriers and makes it easy for millennials to build a network. 
Everyone's working on the same floor and a conversation at the coffee machine can progress into a collaboration. These spaces also often organize after-work events and workshops for members to introduce themselves and interact with other professionals working in the same space. 
4. Cost-Effective
Cost-effectiveness is one of the main reasons why people choose coworking over conventional, independent offices. Firstly, since the lease is much shorter, funds aren't tied up with the office space or fit-outs. Secondly, coworking offices are fully furnished and equipped with everything you need at the workplace. Millennials like that they can literally walk into the space, lease a desk and start working. 
This also means that they do not have to invest in decorating the space, air conditioning it, furnishing it or buying printers and copiers. All of these savings can be directed towards product research, market targeting, etc – activities that are critical to brand success.
5. Minimal Administrative Responsibilities
Running an office isn't easy. There's plenty of regular maintenance that needs to be looked into. All the appliances used in an office have a lifespan and from time to time, they need to be repaired with a newer model. This doesn't just take money, it also takes up mental space. 
The beauty of a coworking space is that they not only provide all the infrastructure required, they also handle the maintenance. As working professionals in coworking spaces, millennials can use all the equipment without worrying about changing the toner in the printer, servicing the coffee machine, etc. 
6. A Wider Perspective
Conventional offices can become high-pressure zones. Everyone's trying to build a career and they're competing with everyone else in the office. Stealing someone else's idea and presenting it as their own isn't a rare occurrence. On the other hand, though everyone in a coworking space is also building a career, they aren't competing with the other people working on the floor.
Millennials find it easier to talk about their ideas with other professionals in these spaces. In talking to people from other industries, millennials also get to see things from a different point of view. This widens their horizons and can help them improve their products and services.
7. Balanced Work And Leisure
A coworking space isn't just about work and professional networking. It's also a great place to make friends. There are many activities organized at coworking spaces for people to switch off from work and de-stress. Millennials understand the value of balancing work and leisure and thus appreciate the aspect of a coworking space.
Finding The Right Coworking Space
Given the growing demand for coworking spaces, there are many such spaces millennials can work out of. That said, not all of them offer the same features and services. As a millennial, when you're choosing a coworking space, you need to make sure it checks all your must-have boxes. The coworking spaces by The Office Pass (TOP) in South Delhi, Noida and Gurgaon are ideal. These fully furnished, fully equipped spaces are located in easily- accessible spots and are ready to work out of. You can pick between a regular or a flexible membership. To know more, reach out to us at 08999 828282.